The Birkenhead Point Art Project
Artist Mon Bedwell talks about her Autumn Art Window Installation for Birkenhead Point Shopping Centre.
Originally published on Art Pharmacy
By Montana O'Neil
The latest artist to contribute to the Birkenhead Point Installation Series is Mon Bedwell, a Sydney based emerging artist. Mon completed a Bachelor of Fine Arts/ Honours, majoring in Drawing, Animation and Visual Effects at UNSW Art and Design last year and has been busy creating ever since. Writer Montana O'Neil got the chance to speak about her creative process and installation.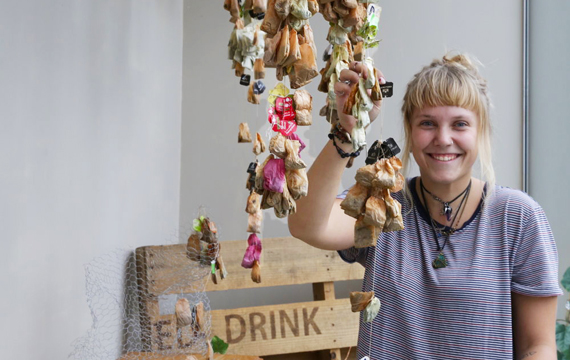 What do you do when you're not creating?
When I am not creating, I am working casually as a nanny and in hospitality. I try take opportunities to go on trips out of Sydney to National Parks, to enjoy being in parks or the beach as down time with my dog.
What has inspired you in the creation of the Birkenhead Point installation?
The inspiration for the installation at Birkenhead Point was based around how I feel and interpret the season of Autumn.
I am very heavily drawn to nature and the effects changing seasons have on the fashion industry, as well as relating that back to the changes individuals make because of this. The fashion industry changes just like the change in season, as temperatures change so do the choices of fashion with a new fall of clothes and consumer goods being released.
Teabags have been a big part of my most recent works and therefore made sense to use them within the window as an interesting way to reuse a disregarded material. I believe the tea bag also represents more than just a moment to take a mental break and relax but a reflection on the changing of seasons.

As a consumable substance which people are more inclined to enjoy in colder months, Autumn is a perfect time for people to start breaking out the warmer coats and hot cups of tea. When I think of the cooler seasons, I think of putting the kettle on and rugging up for a catch up with friends. The teabags are more than just a material, but an embodiment of that feeling.

When tea bags are dried they also have the appearance of leaves, full of different tones of warm colours like browns, greens, yellows, and even pinks. These colours and tones in the bags once again reflect on the effect the changing of season has on nature itself, the falling of leaves from the trees as our surroundings prepare for the cooler months ahead.  

What do you hope audiences will take from the work?
I wanted to create an installation which took people into another world, to enable their imagination to take them to a hidden forest where nature has grown over left behind items of furniture which have been weathered over time. For consumer goods to be used and altered in a way that is quirky and allows the audience to see and relate to items being used within the window, evoking a sense of familiarity.

I hope for the audience to view the window and smile, seeing a consumable good such as tea paired with the fashion industry and their connection to nature which surrounds us each and every day.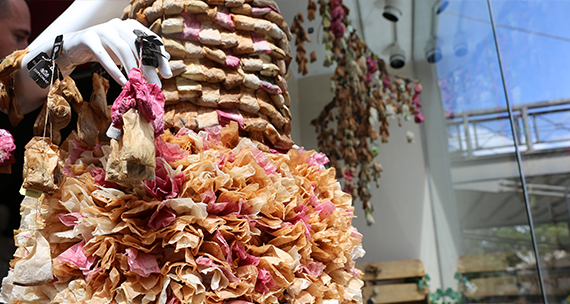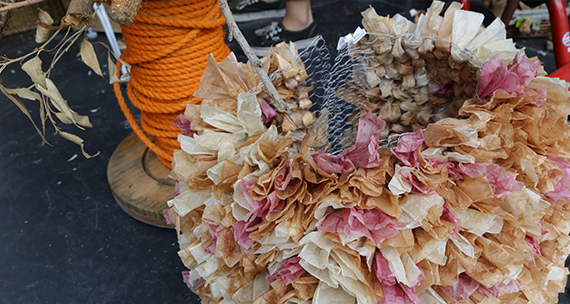 Describe your art practice.
I view myself as a interdisciplinary artist working with various techniques and materials to construct each series or body of work. I work within different mediums such as painting, sculpture, installation and object manipulation.
My practice has been deeply focussed around artistic processes and forms of collecting, documenting and physical manipulation of the found materials. Finding materials, placing them together and attempting to create a 'voice' for found and disregarded materials such as litter.
Through these processes I have been able to discover various ways in which to explore this 'voice'. I try not to change the materiality of the found object but find ways to work with it, perhaps creating a new meaning, this has been achieved by looking at what the materials represent and invert their meaning, making them not something new rather enabling them to be seen with new importance.
When, how and why did you get into art making?
I have always enjoyed drawing and creating art. I studied fine arts at university but ending up working in graphic design once I graduated. Since I started working fulltime in graphic design, I have created artworks in my own time through the medium of drawing, painting and papercuts.
I saw a paper artist present at Semi Permanent in 2013 and decided I wanted to do that for a living. I have had some great opportunities over the past 4 years working in paper, and most of my paper works are commercial commissions.
My next plan is to create a collection of personal paper pieces over the next 12 months, inspired by travels from the last few years - particularly the Moorish patterns and architecture from Spain, Morocco and India.
Who is your art idol?
I don't have one art idol, but there are several artists that inspire me (although my own work doesn't necessarily reflect their styles).
I really like the graphic, bold style of both Andy Warhol and Meggs, an Australia graffiti artist. I have worked in graphic design for the past 15 years and I can see similarities between their use and choices of colour in my own graphic design work.
Other artists and their work that inspire me include John Lennon's illustrations and paper artist Matt Shlian's geometric pieces.
You can view Robinson's Couture in Bloom at Birkenhead Point from 3rd November 2017.
Art Curators Art Pharmacy Consulting
Website www.artpharmacyconsulting.com
Social Media @artpharmacy
Photo Credit Josh Wyatt