Food & Drink
Croissant French Toast by Matt Sinclair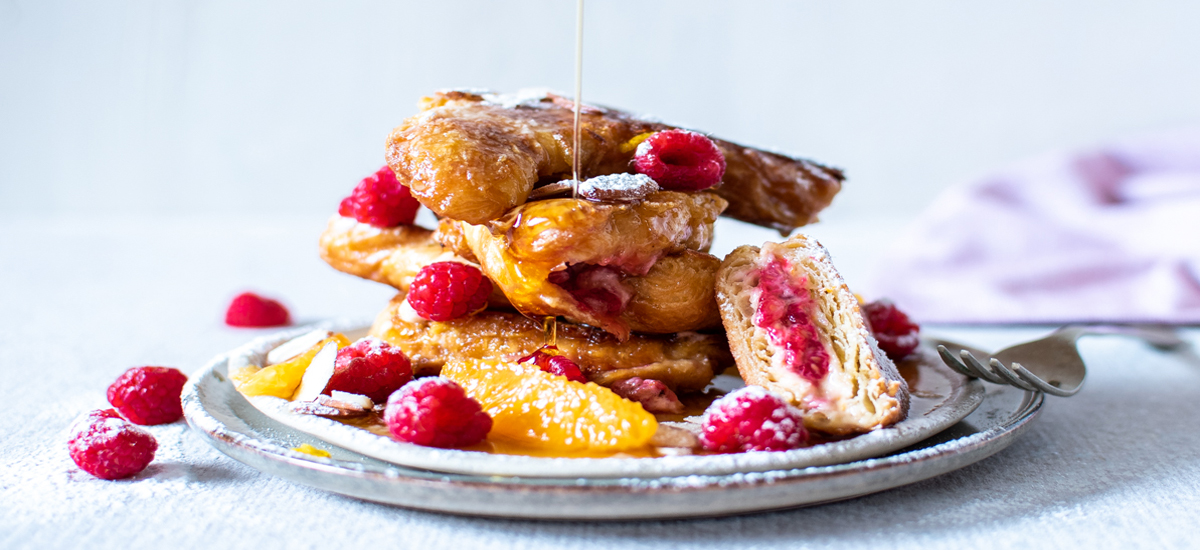 SERVES 4 | 10 MINS PREP TIME | 15 MINS COOKING TIME

INGREDIENTS
• 8 small croissants
• 200ml crème fraîche
• 100g fresh raspberries, extra for serving
• 1 orange
• 2 tbsp icing sugar, extra for serving
• 2 eggs
• 2 tbsp full cream milk
• 1 tsp vanilla extract
• 50g butter
• Flaked almonds, toasted
• Maple syrup for serving

METHOD
1. Partially cut croissants in half using a serrated knife.
2. In a bowl, combine creme fraiche, raspberries, orange zest and icing sugar. Gently mix together. Place a
spoonful of filling into each croissant. Seal croissants together by pressing along the cut edge.
3. Whisk together eggs, milk and vanilla. Place a large frypan over medium heat. Add butter. Carefully dip each
croissant into egg mixture. Fry in butter on each side until golden brown.
4. Serve hot with additional raspberries, segments of orange, a dusting of icing sugar and toasted almonds.
Drizzle with maple syrup.