Food & Drink
White Chocolate, Raspberry & Coconut Skillet Cookie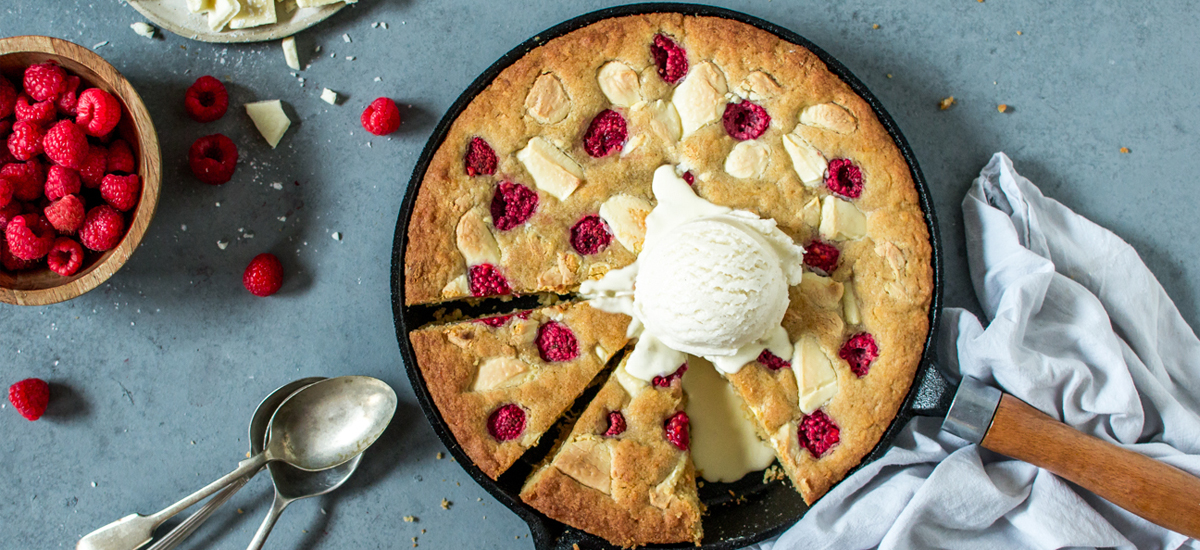 SERVES 8-10 | 10 MINUTES PREP TIME | 40 MINUTES COOK TIME

INGREDIENTS
• 225g unsalted butter, room temperature
• 1 cup brown sugar, lightly packed
• 1/2 cup caster sugar
• 2 free-range eggs
• 1 tbsp vanilla extract
• 2 1/2 cups plain flour
• 1 tsp baking powder
• Pinch of salt
• 1 cup shredded coconut
• 150g white chocolate, roughly chopped
• 100g fresh raspberries

METHOD
1. Preheat oven 190°C. Grease a 25cm cast iron skillet with cooking spray.
2. Using electric beaters, beat together butter, brown sugar and caster sugar until light and creamy. Add eggs and vanilla and mix well. Fold plain flour, baking powder, salt and coconut into mixture. Stir until smooth.
3. Evenly press cookie dough into prepared skillet.
4. Gently push pieces of white chocolate and raspberries into the surface of the dough.
5. Place in the oven for 20-25 minutes, or until golden brown and white chocolate has caramelised.
6. Remove skillet from oven and allow to rest for 10-15 minutes before serving. Serve cookie warm with generous scoops of vanilla ice-cream or cream.